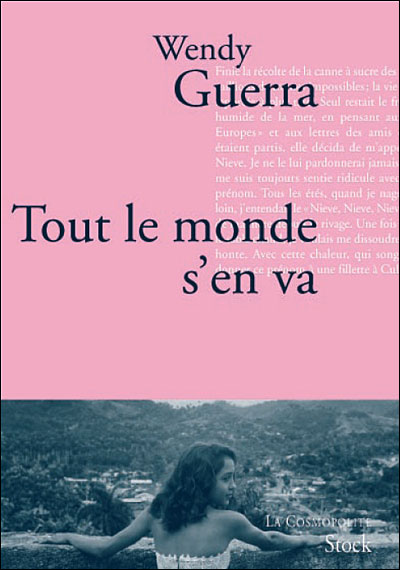 --The blurb--
"This debut novel takes the form of a private journal, that of Nieve, who is growing up in Cuba in the 1980s. She confides to the diary the defining moments of her existence, from childhood to the cusp of womanhood.
Torn between artistic and bohemian parents who are splitting up, she will soon know a future made up of constant departures and successive separations. The reader follows the personal, intellectual, political and artistic evolution of this young girl. As a child, just as her parents have separated, she goes to live in Cienfuegos with her mother and her mother's Swedish lover, who gives her a love of games and of reading. However, her father obtains custody of her and takes her to the mountains with his troupe of puppeteers. Having been subjected to maltreatment from her father, Nieve is then placed under the care of a Child Protection Centre (Castrist jargon for an orphanage), before being able to live with her mother again and leave with her for La Havane, where they never stop hoping for a permit to leave Cuba.
As the months and pages go on, Nieve's pen becomes more self-centred, to the point of becoming more self-analytical. Her experiences with relationships contribute to the awakening of her artistic sensibility and political conscience. Creative and artistic compulsion is at the heart of this work, as are the themes of accomplishment and resistance."
*blurb from www.fnac.com; translation mine
--The review--
Published under the title "Todos se van" in Spanish, this oeuvre is unfortunately as yet unavailable in English. However, since none of us know what the future holds, let us proceed. Realistic child characters, both in personality and language, are difficult to create and still maintain integrity. Donna Tartt's "The Little Friend" was spoilt for me because of this. However, Wendy Guerra not only manages to achieve realistic dialogue and thoughts for the narrator's age at the start of the book (six or seven) but also manages to successfully capture the character's growth throughout the book (again in terms of the use of language as well as sophistication of thought).
The other characters are also all painted excellently, with both their good and their infuriating points shining through. The imagery is therefore vivid: the neurotic mother, the alcoholic father, the increasingly self-righteous teenager. However, I didn't feel that I could really 'connect' with Nieve, though perhaps (in an existentialist sort of way) I wasn't meant to - it's always difficult to tell whether or not this is the author's intention. However, I could empathise with some of the emotions, even though attachment to the character herself was not strong.
Learners of French or Spanish would do well to read this book: the language becomes progressively more complex in a realistic way, which serves as a very positive tool for learning. The novel is also not over-peopled with characters, meaning that while emotions meander as the character grows, the story also possesses a quality of sharp focus. It is a sophisticated and well-constructed coming-of-age story that deviates from the clichéed examples of this genre that are usually cited. However, this difference from other well-known exemplars is not easy to pin down: it does have a certain
je ne sais quoi
. Some qualities that do come to mind, though, are Nieve's obstinacy, which is admirable rather than irritating; a lack of attempt to be amusing, as is often common in fictional young diarists; and a lack of whininess, which makes the character more likeable than her other fictional contemporaries.
Reading about Wendy Guerra's life gives the reader some sense that
Tout le monde s'en va
is to an extent autobiographical, but this in no way seems to cheapen it, particularly as there is no particular overriding message or patronising missive of morality from the author as the reader reaches the book's end.
A promising novel from an author who deserves to be better-known across Europe.
Other works by Wendy Guerra
Platea a oscura (1987) - poetry
Cabeza rapada (1996) - poetry