Goethe Prize awarded to Syrian poet
The first Arab writer to win Germany's €50,000 (US$72,286) Goethe Prize, Adonis receives a prize awarded every three years on Goethe's birthday to an individual whose work reflects the spirit of the German master. The Guardian reported that the jury called him "the most important Arab poet of our time," and praised his "eminent literary talent, his cosmopolitanism and his contribution to world literature. Just as Goethe popularized Arabic poetry with [his book] West-Eastern Divan, Adonis carried the accomplishments of European modernity into Arabic cultural circles, with great effect," said the jury.
Guardian First Book Award longlist announced

This year's longlist for the £10,000 (US$16,247) Guardian First Book Award--open to all first-time authors writing in or translated into English, across all genres--is "fiction-heavy," with six novels, three works of nonfiction and one poetry collection. The Guardian reported that a "series of regional reading groups, run in partnership with Waterstone's bookshops, will now assist the judging panel with choosing a shortlist." The list of nominated writers includes Booker-shortlisted Stephen Kelman and artist and writer Erin Morgenstern.
Have a lovely time
A family travel writing competition celebrating the beauty of Britain is calling for submissions. The contest at www.havealovelytime.com has a top prize of £200, a second prize of a weekend stay at the Park Inn in historic York and an English Heritage family pass for everyone finishing in the top ten, as well as a copy of Travelling with Children, by Catherine Cooper, one of the competition's judges. There's also a mystery prize on offer for the entry voted readers' favourite after the competition closes on October 1, 2011. Journalist and author Linda Jones who edits Have a lovely time, and is Catherine's fellow judge, adds: "We want to celebrate all that's great about family tourism in our stunning land. That might include breathtaking adventures in the Lakes, laughing til your sides ache at a family-friendly Edinburgh festival, savouring the splendour of the West Wales coastline, a Devon cream tea or a knees up at a holiday park…or of course plenty more. "Wherever you love to find quality family time in Britain – we want to hear about it. We're looking for entries about family holidays, breaks, days out or adventures. "Perhaps your stories could be inspired by firing your imagination at an English Heritage (www.english-heritage.org.uk) property – as we're delighted they are backing our contest – and there are so many adventures to be had for you and your family. We won't tell you what we mean by 'family' – so long as you feel the title fits, that's fine by us. Perhaps the break you want to write about is a first one without children when they've flown the nest. Maybe you don't have children but consider a beloved pet part of your family." A first entry is free but if you'd like to try more than once, there's a fee of £5 per subsequent entry. If you'd like a professional critique of your submission you can pay £12.50 for feedback on your style, structure and content. A proportion of all fees paid will be split between Have a Lovely Time's chosen charity, CCPA (www.ccpa.org.uk) (formerly NACCPO) and their support for an organisation called the Torbay Holiday Helpers Network (www.thhn.co.uk) which helps offer free holidays, to families who have seriously ill life threatening/limiting, terminally ill and recently bereaved children.
Victorian Prize for Literature
Kim Scott won the $100,000 Victorian Prize for Literature, Australia's richest literary award, for That Deadman Dance, which "explores the relationships between 19th-century British settlers and the indigenous people on the coast of Western Australia," the Wall Street Journal reported. In June, Scott's novel won the Miles Franklin Award, making him the first indigenous writer to earn that prestigious award twice (his novel Benang won in 2000). "It's reassuring and gratifying and should be confidence boosting," Scott said. "We'll see. Last time I won a couple of awards for a novel, that was my last novel and that was about 11 years ago, so I wouldn't want to have to wait that long before I wrote another one." That Deadman Dance is scheduled to be released in the U.S. and Canada in January.
Authors protest against online libraries
A number of authors and authors' groups have filed a lawsuit in New York to prevent universities from creating online libraries with millions of scanned books. The Authors Guild and the Australian Society of Authors, among others, joined eight individual authors in filing a copyright infringement lawsuit in Manhattan, claiming that the scans of seven million copyright-protected books were unauthorised.
Financial Times/Goldman Sachs Business Book of the Year Award
The lists of finalists competing for the £30,000 Financial Times/Goldman Sachs Business Book of the Year Award has been announced ahead of a winners' ceremony due to take place on November 3rd. Shortlisted titles cover rethinking of ways to fight global poverty, the rise and fall of the dollar, and the differences between good and bad strategies.
Putting Potter powers and the Oxford name into ordinary interiors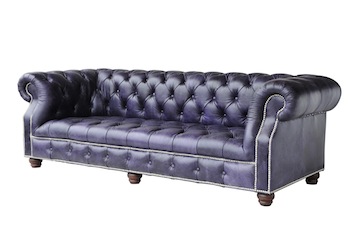 According to the Telegraph, Oxford University has designed a new range of interior furniture and accessories to capitalise on its links with the Harry Potter films. The 400-year-old Bodleian Library lends its name to a bookcase worth nearly £4000 while a Harry Potter-style dining table, named the Oxford Collection, is priced at just over £2500. The furniture, inspired by 800 years of history and archives, intends to hark back to the many scenes set in the Great Hall of Hogwarts, which were filmed in Christ Church College's dining hall. One emeritus professor of the college was horrified, describing the venture as "vulgar, inappropriate, and unauthorized by the university at large," accusing it as "cheapen[ing] its image".
Returning banned books to the shelves
The Mark Twain work "Eve's Diary" has been put back on the shelves of a Massachusetts library more than a hundred years after it was originally banned. Library trustees unanimously voted to return the book to circulation, reversing the board's 1906 decision to ban the 1905 story, which is written from the perspective of the Biblical Eve, and was banned thanks to its nude illustrations of Eve.
Fashion dictionary adds new words to aid Debenhams shoppers
An influx of new terms that have emerged from the fashion press, such as 'jardigan (a cross between a jacket and a cardigan)' and 'tregging (the love child of trousers and leggings)', has forced high street retailer Debenhams to update its fashion dictionary that it gives to shoppers. The retailer's fashion dictionary has already had an influence on more mainstream tomes, with the Oxford English Dictionary taking terms from the book, such as 'jegging' and 'mankini' for its own pages for 2011. New fashion phrases added to Debenhams' reference list include shinos (short/chinos), athleisure (clothes to take you from work to the gym), and glittens (mittens that roll back to reveal gloved fingers). The new copy of the Debenhams Fashion Dictionary is out now.
Four hundred books banned from Algerian international book fair
Algeria's culture minister reports that 400 books were banned from the country's international book fair recently. Banned books supported themes including colonialism, terrorism and tacism, and books attacking the national liberation struggle against France were also not allowed in. More than 500 publishers participated in the festival from around the world, with Lebanon being the guest of honour thanks to its 70 participating publishers.
Roald Dahl Funny Prize
What better way to celebrate Roald Dahl Day than with the announcement of this year's finalists for the Roald Dahl Funny Prize? For the first time, schools will be involved in the judging process. More than 400 pupils from England have been selected to read the shortlisted titles, discuss with their classmates and pick their favorite funny book in the relevant category for their age. Their votes will then be combined with the votes of the adult judging panel to find the two winners. Category winners receive £2,500 (US$3,970), and will be honored November 8 in London. The 2011 shortlisted books are:
Funniest book for children aged six and under
Bedtime for Monsters by Ed Vere
Cats Ahoy! by Peter Bently, illustrated by Jim Field
First Week at Cow School by Andy Cutbill, illustrated by Russell Ayto
Limelight Larry by Leigh Hodgkinson
Marshall Armstrong Is New to Our School by David Mackintosh
A Place to Call Home by Alexis Deacon, illustrated by Viviane Schwarz
Funniest book for children aged seven to fourteen
Animal Tales by Terry Jones, illustrated by Michael Foreman
The Brilliant World of Tom Gates by Liz Pichon
The Get Rich Quick Club by Rose Impey
Letters from an Alien Schoolboy by Ros Asquith
Penny Dreadful is a Magnet for Disaster by Joanna Nadin, illustrated by Jess Mikhail
The Wrong Pong by Steven Butler, illustrated by Chris Fisher