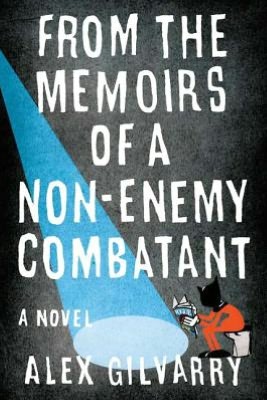 "Boyet Hernandez is a small man with a big American dream when he arrives in New York in 2002, fresh out of design school in Manila. With dubious financing and visions of Fashion Week runways, he sets up shop in a Brooklyn toothpick factory, pursuing his goals with monkish devotion (distractions of a voluptuous undergrad not withstanding). But mere weeks after a high-end retail order promises to catapult his (B)oy label to the big time, there's a knock on the door in the middle of the night: the flamboyant ex-Catholic Boyet is brought to Gitmo, handed a Koran, and locked away indefinitely on suspicion of being linked to a terrorist plot. Now, from his 6' x 8' cell, Boy prepares for the trial of his life with this intimate confession, even as his belief in American justice begins to erode."
With the recent passing of 9/11's 10th anniversary, it's only natural that there should be an even greater resurgence of literature on this theme than ever before as the memories of that day are freshened for all. Alex Gilvarry's attempt is a slightly off-the-wall, behind-the-scenes view of the paranoia of post-9/11, this time through the eyes of a so-called terrorist, who Gilvarry wants us to believe is an innocent man, bringing into question our belief and trust in the governments that preside over us.
Part first-person memoir, part third-person biography, it's therefore not dissimilar in this respect to the other hybrid text I read recently, the definitely non-fictional Along The Cherry Lane. While characters in From The Memoirs of a Non-Enemy Combatant are strong, there is another respect in which it differs from Along The Cherry Lane: even though we are presumably supposed to sympathise with and warm to Boyet Hernandez (or Boy, as he is frequently referred to), it is difficult to do this given his sheer naïveté in associating with such clearly dodgy characters. The characters therefore do not appeal to us in the way that they are perhaps intended to, and some (like the Russian models Boy uses for his shows) are apparently supposed to be funny (or at least, I didn't find the novel as amusing as several other readers and reviewers apparently did - but I suppose it's all a matter of taste), but are far too caricatured for us to truly be able to engage with them. If the writer was trying to be satirical, in this respect I don't believe him to have been successful.
However, there is certainly one very intriguing aspect of the style: even though not fully appropriate for a 'confession' (as it's often referred to), factual 'mistakes' made by the clearly very human Boy are corrected by the author/narrator through footnotes, and his trial is also chronicled through the footnotes in the repeated references to articles in various high-profile newspapers on the subject, complete with dates. Even though we know it is not a true story (a quick Google search reveals this; in addition, I was amused to find that there are real people named Boyet Hernandez), this meticulous set-up and attention to detail almost makes us think it could be - and that if this story were true, what other details in the novel could also be true (particularly in relation to the treatment of prisoners and the bureaucracy of the American justice system).
This unusual novel lingers in a strange way, despite its flaws. Is it clever? Yes. Is it witty? To my mind, not really. But if there is one thing that Alex Gilvarry is not, it's an imitator. Having never read any book like this before in its subject matter and style makes me feel like this is an entry onto the scene of a truly intriguing new literary talent.