The British Museum and The Folio Society join forces this Christmas
The British Museum Company and The Folio Society have collaborated to bring The Folio Society's illustrated editions of the world's greatest books to the customers of the British Museum's Grenville Room shop, and its online store. The British Museum Company therefore now stocks Hamlet, Macbeth, Romeo & Juliet, The Tempest, and Sonnets & Poems from The Folio Society's Letterpress Shakespeare in its Grenville Room shop, to coincide with the current Shakespeare exhibition, which finishes on 25 November. The Grenville Room is also playing host to a selection of Folio's children's classics, including Wind in the Willows and Alice in Wonderland. Beautifully presented and built to last, they would make wonderfully historic gifts this Christmas to last a reading lifetime.
Shine inside and out this winter
With the onset of cold weather, we are often inclined to turn to recipe books that are bursting at the seams with soups, puddings and pies. But to keep healthy throughout the year – even when it's freezing outside – many believe that we should be continuing to incorporate more and more raw foods into our diet. This is a philosophy espoused by Rebecca Kane, whose newest book, Shine Inside and Out, aims to help us do exactly this. Shine Inside and Out follows her first book, Turn Your Shine On, in providing recipes for refreshing smoothies, soups, main meals and desserts, which are all wheat free, dairy free, and, crucially, raw. Already a Raw Food Expert for Videojug, Rebecca specialises not only in classic cold dishes, but also in such delights as chocolate brownies and Thai curries, which continue to appeal even in winter – with traditional Christmas treats such as mince pies also available. Stay tuned for a review of Turn Your Shine On coming soon!
Samuel Johnson Prize Shortlist
With the results of the 2012 Man Booker Prize having just been released, it can often seem that all eyes are on fiction. However, the winner of the £20,000 Samuel Johnson Prize for Nonfiction is also just around the corner, with the announcement due on November 12th. The titles shortlisted this year cover subjects ranging from the Spanish Holocaust and Mumbai slums to Strindberg and Mallory, with the list including luminaries such as Steven Pinker. History buffs may henceforth rejoice.
Think decisively, take action and get results in 2013
The above sounds like a list of new year's resolutions - and new book Result could be just the thing to help. Result's philosophy rests on the notion that it's the approach you take that matters, rather than just how much work you put in, which makes sense in terms of the maxim "quality, not quantity."
Out this November, the book (by business coach Phil Olley) sounds to me like a straight-talking self-help book for the 21st century, focusing on skills and mindset in equal measure. Definitely sounds like a good one for me to have on my Kindle in the new year as I do battle with IB paperwork, lesson planning and assessment frameworks over the next few terms…
Lost for words?
Friends and family certainly won't be when you adopt a word for them this Christmas. Choose a special real or made-up word from "surprise" to "supercalifragilisticexpialidocious" for a personal gift that's suitable for all ages. Your chosen word can be 'adopted' online, helping you to avoid the high street, and you can even combine words to adopt a whole phrase. All words and phrases come with their adoption pack, which is sent by post or email, and you can even purchase merchandise with the word or phrase on it to go with your gift. What's more, it's an ethical choice too: all the money raised goes to
I CAN
, the children's communication charity, making the gift a truly thoughtful and unforgettable choice.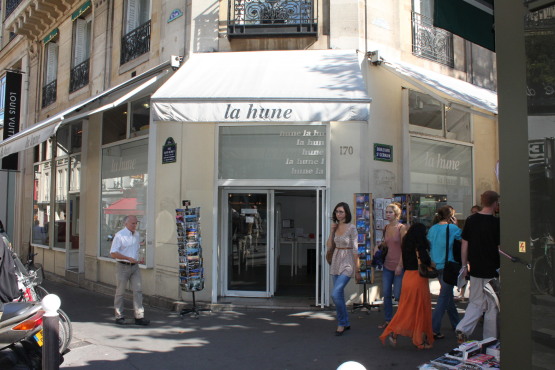 La Hune in its new location
Venez visiter le salon littéraire!
If you're in Paris for a romantic winter break, you may want to come and visit Louis Vuitton's new literary salon and gallery in the city, which has the theme « Writing is a Journey ». The temporary exhibition will be on display until December 31st, with art on the walls, books for sale, and literary conversations timetabled. The space, which was previously occupied by bookstore La Hune (which has moved to a corner a few streets away), is set to become part of an extended Louis Vuitton boutique in 2013. I can't wait – and will let you know when I've been able to pop in for a peek.